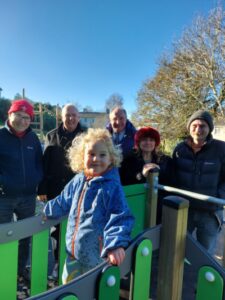 Collapark play park in Totnes has reopened following a £100k makeover with Westonfields park set to follow in mid-January. Councillors from South Hams District Council, Totnes Town Council and Bridgetown Alive representatives attended the official opening to mark the occasion.
Totnes Town Council has contributed £10k towards the Collapark play area improvements.
Catherine Marlton, Totnes Town Council Clerk, said: "It's brilliant to see this fantastic playground now open in time for the school holidays and local children having fun. The good ideas from local families who helped to design this new look play area have been made into a reality and I'm proud Totnes Town Council was in a position to help fund this much needed revamp.
"Playgrounds offer so many benefits in terms of physical and mental health for local children and their families so it's been great working with South Hams District Council to make this happen for our community. It may be chilly but I can see this isn't stopping our young people from giving the equipment a good test now with hopefully many, many hours of fun to be enjoyed all through the year ahead."
After asking the local communities what type of playground they wanted for their children, the District Council used the information to tender a contract. Playground experts, Kompan, designed the playground equipment into an area suitable for pre-school and primary children, in line with the requests of the local residents.
The existing equipment has been removed and replaced with new freestanding wooden equipment and new safety surfacing has also been put in place throughout the parks. Collapark has also kept some of its existing long-lasting swings, which remain in good condition.
The new design has generated excitement from the children as they have watched the parks develop through their construction phase. The wide-ranging equipment will stand the test of time for children for years to come.
South Hams District Council has provided £60k from the Capital Play Parks Renewal Scheme, together with approximately £30k from reserved s106 planning funds. (Section 106 agreements are legal agreements between local authorities and developers, linked to planning permissions.)
South Hams District Council's Executive Member for Health and Wellbeing, Cllr Jonathan Hawkins, said: "It's always really great news when a play park is completed and ready for the children to use. As always, the new park has been designed to an incredibly high standard by Kompan to meet the needs of the Totnes families who will be using it.
"What makes this more special is the communities had a real input into the design of the equipment, so it closely meets the needs of the children who will be using the park.
"This has been a great community project from start to finish with joint working with our partner Totnes Town Council and with valuable input from Bridgetown Alive.
"It is important to us that the children have great fun, gain social skills and develop their physical endurance. Parks are also a great way for parents and carers to get an opportunity to meet and have opportunities for some social time. Parks also don't have an impact on parents' finances which is incredibly important as finances are squeezed during the current cost of living crisis."