The brand new TQ9 Community Food Club is now open following a grant from Totnes Town Council. Run by Stepping Stones Totnes CIC, the Food Club gives TQ9 residents the opportunity to make their weekly food budget stretch much, much further. Joining the Food Club costs £2.50 a week (you don't have to pay every week, just as and when you need it), and members can choose up to 10 items from the shelves. The aim of the club is to get support to more people in need as for a lot of people, getting a bargain is preferable to a hand-out, as they are able to contribute something towards it. The Club, which welcomes anyone in genuine need from the TQ9 district, operates from St Mary's Church Hall (off the cobbled alley to the left of the church) and is open Monday 1:30pm – 8:30pm and Friday 9:30am to 12 noon. A Town Council community grant of £2,400 was awarded to Stepping Stones Totnes CIC in October 2022 to help set up the project.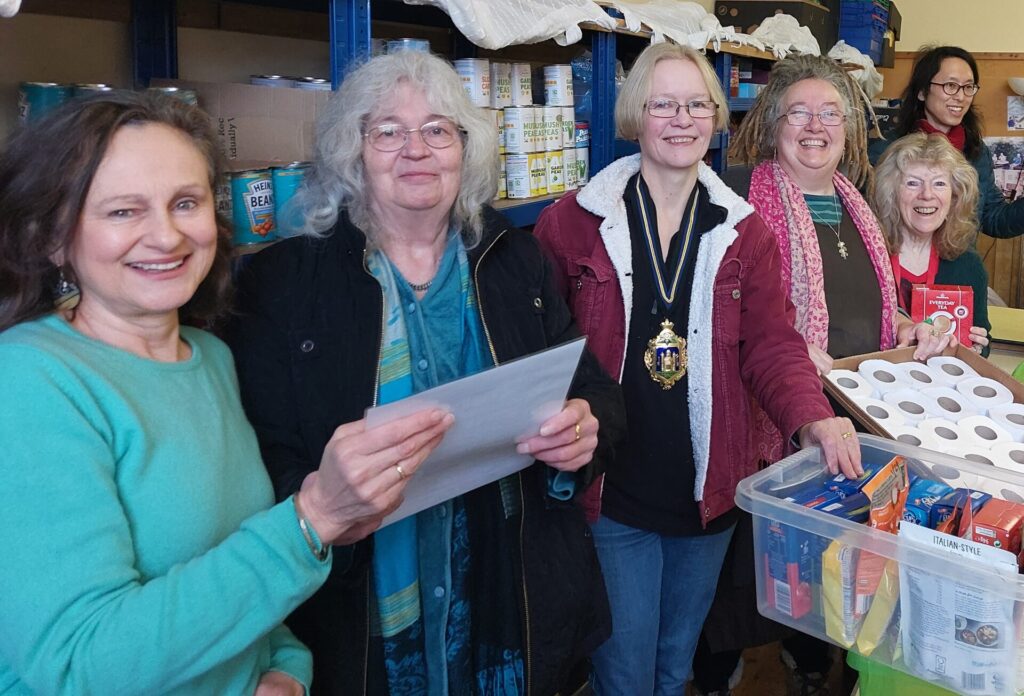 Kit Stevens, Manager, Stepping Stones Totnes CIC said: "We hate the idea of people having to choose between 'heating and eating' or compromising their good health in any other way through enforced poverty so we started the TQ9 Community Food Club just before Christmas. Our club members say it's really helping them cope through the cost of living crisis. Through grants from the Council and the continued generous donations of food and money from our local supporters we can get through this, and as a community, grow stronger for the challenges to come. For more details about donating: contact@steppingstonestotnes.co.uk or drop in and have a chat."
Cllr Emily Price, Mayor of Totnes said: "The Food Club is a very welcome addition to the cost of living support available for our residents – helping even more people through these challenging times. I'm delighted Totnes Town Council was able to provide the financial support to get the scheme off the ground through a community grant. It's heartening to see the dedicated work of Kit and the brilliant volunteers at Stepping Stones who truly are providing a lifeline to many local people in need."
Stepping Stones CIC also operate the Totnes Food Bank, which currently has fifty households on its books and helped over 1850 people last year with food and additional support and advice from groups including Citizens Advice South Hams, who are regularly available at Food Bank and Food Club sessions. Stepping Stones organises other events in their welcoming warm space, including Jumblelows Rummage Sales every other month which offer fabulous clothes for a donation, Relaxation and Anxiety Management, and Create in Company. With their extended times they are putting the final touches to their programme to include the Hot Flush Café for anyone wanting to find out more about the menopause, games evenings, and more. You can always bring your own projects along and just enjoy the warmth! To find out more about these events and other warm spaces in Totnes, go to the Town Council's website: www.totnestowncouncil.gov.uk
The TQ9 Community Food Club is open:
Monday 1:30pm – 8:30pm and Friday 9:30am to 12 noon.
The Totnes Food Bank is open:
Tuesday and Thursday 10:00am – 2:30pm
Tuesday and Thursdays:
Pay-what-you-can Vegan Soup is available between 11:45 and 1:00 (while stocks last)