A New Spot To Get Together Or Rest
A new bench has been installed outside The Mansion to make it easier for people to stop and chat. Funded by a £1,500 grant from Totnes Town Council, the bench has been crafted by local charity Landworks and is part of a project by Inclusive Totnes to help bring people together to tackle loneliness. As well as encouraging people to talk more, it also provides a comfortable place to stop for anyone needing a rest as they walk through the town.
Jeff Chinnock from Inclusive Totnes said: "We are grateful to Totnes Town Council for the Community Grant – this project would not have been possible without it.
"We wanted to install a bench outside the Mansion for two reasons: to promote the bench as a place for people to chat to others – whether they know them or not – as a way of bringing people together particularly after the last 2 years. Age UK and the ONS designate Totnes town as an area at a very high risk of people being lonely, so this is a small but important way to better connect people. In addition, Totnes Fore Street and High Street are steep and the bench will provide a place to stop and recover for people living with mobility issues or long-term conditions as they walk up the hill.
"If the bench is well used and welcomed by the community, we will look for additional grants to install further benches."
Cllr Emily Price said: "What a fantastic addition to the town, thanks to the vision from Inclusive Totnes and the craftsmanship of the team at Landworks. I'm delighted the Town Council were able to contribute towards this stunning community bench and I hope citizens of the town will enjoy a moments rest, respite or conversation here for many years to come."
Jeremy Doyle, who has been proactively encouraging people to stop and talk in the town, added: "In October of last year I started placing a spare director's chair next to my own in the high street with a sign offering the opportunity for anyone and everyone to sit down and have a chat. I have done so on an irregular but reasonably frequent basis ever since, and I have met a whole range of people, every one of them with a story to tell; we all have a story. It is almost certain that the lockdown created significant social barriers for many, leading to an increasing sense of isolation and loneliness, and I hope that what I have done and continue to do has made and will continue to make a difference for those who choose to sit down.
"The community bench outside The Mansion offers that opportunity, ie a chance to sit and chat with someone you probably don't yet know. However, it also offers the opportunity simply to sit and rest as you go up and/or down the high street. The bench itself is a beautiful piece of woodwork, crafted by those wonderful people at Landworks (check them out if you don't already know them) and just sitting on it made me feel privileged. Try it out the next time you're passing. You might meet and talk to someone you know or someone you don't know; you might let your thoughts wander peacefully; you might engage in some people watching (come on – we all do it!). Whatever, I hope that by sitting on this new bench you feel a part of this vibrant community that is Totnes."
Inclusive Totnes is one of 11 community groups that received a grant from Totnes Town Council last month. With a combined value of £24,000, the grants allocated by the Town Council will support a wide range of local projects that aim to enhance wellbeing or offer other benefits to the area.Other grant recipients include Totnes Caring, Totnes Bike Hub, St John's Church and Bridgetown Alive! The next round of Town Council grants will open for applications in September.
In the last year, Totnes Town Council has also supported projects across Totnes to access funding worth over £545,000 from government grant schemes and other sources. If you'd like to find out more, please email: community@totnestowncouncil.gov.uk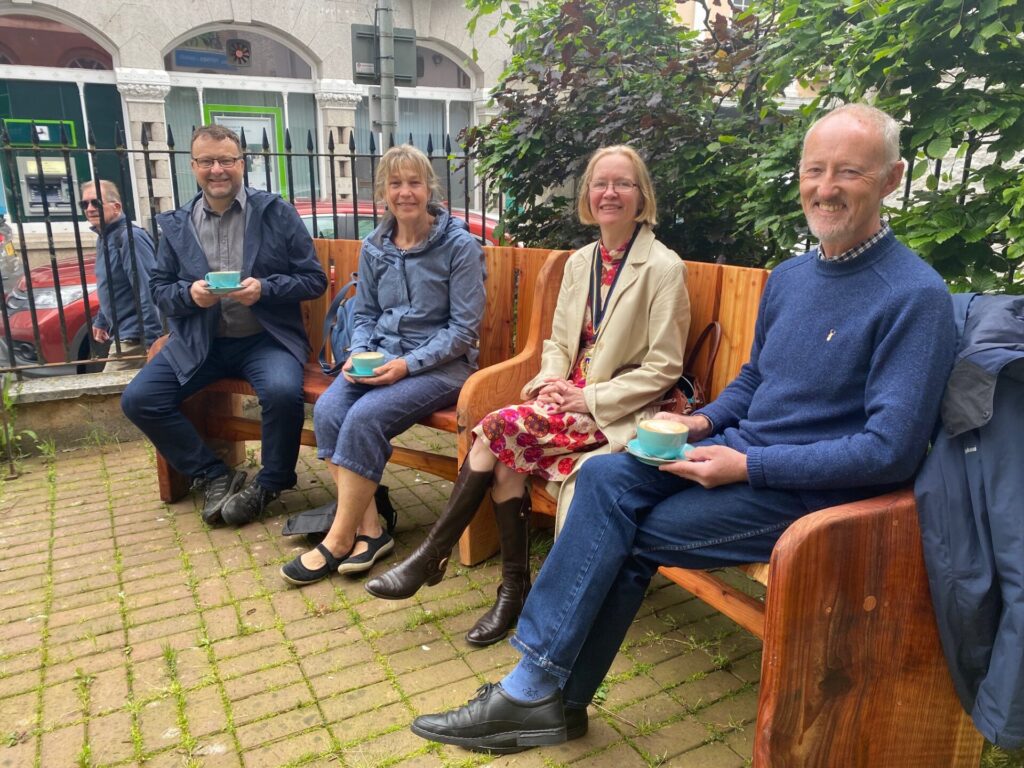 Photo: (l-r) Jeff Chinnock, Cilla Doyle, Emily Price, Jeremy Doyle