Opening Hours
The Guildhall is currently open between 11am-3pm Monday to Friday (not Bank Holidays) from April to October 2023. The Guildhall is sometimes closed for private hire and Council business – if you are making a long journey to visit us then please call in advance to check that we will be open.
If you are interested in becoming a volunteer or have any queries regarding the Guildhall, please email civichall@totnestowncouncil.gov.uk
Guildhall Closures
Please note the Guildhall will be closed on the following dates of the 2023 season:
Thursday 28th September
Thursday 5th October
Thursday 12th October
Thursday 26th October
About The Guildhall
Totnes Guildhall has nearly a thousand years of history for you to explore with the original priory building dating back to 1088. In the early 1500s England monasteries were dissolved under the rule of Henry VIII and most of this building was destroyed. In 1553 the Guildhall was built and over the years it has been used as the town gaol, boy's school, magistrates court, and is still used today as the Council Chambers for Totnes Town Council.
You can see the boards of Totnes mayors dating back to 1359 and the Council Chamber where Oliver Cromwell sat to plan the closing stages of the Civil War in 1646.
There is so much to see at the Totnes Guildhall and we simply ask that you leave a donation to help us with the upkeep of the building. Your donations will help us to repair the frieze and plasterwork in the Council Chamber and to repair the glass turret, along with general upkeep of this magnificent piece of history.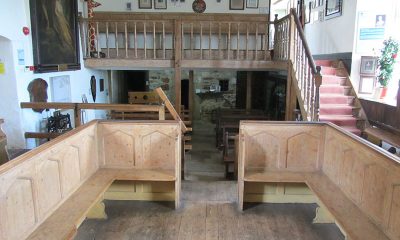 Volunteering opportunities
Do you love local history? We rely on volunteers to help us keep the Guildhall open. If you can spare a couple of hours a week and would like to help out in this beautiful Grade I Listed building then please call the office on 01803 862147 or email.