Are you passionate about our community? Do you want to help make a long-lasting change? Do you have innovative ideas for the council? Do you have concerns about a specific issue and want to do something about it? If this is you, then we need you. We need people from all backgrounds and experiences who reflect our community to put themselves forward for election. Make a change and become a councillor.
NOTICE OF VACANCIES FOR OFFICE OF COUNCILLOR
PARISH OF TOTNES, TOTNES TOWN AND TOTNES BRIDGETOWN WARDS
Totnes Town Council is seeking up to three dedicated and motivated persons to fill upcoming vacancies as a Town Councillor (two Town Ward, one Bridgetown Ward).
The Council meet once a month at 6.30pm, in the Guildhall, with additional committee meetings held throughout the year. This role is voluntary.
Further details are available from the Town Clerk on 01803 862147.
Letters of application, outlining your experience, how you would help the local community and why you would like to be a town councillor, should be sent to: The Town Clerk, Totnes Town Council, The Guildhall Offices, 5 Ramparts Walk, Totnes, TQ9 5QH or emailed to clerk@totnestowncouncil.gov.uk.
Closing date for applications is midnight on Monday 8th May 2023.
Your application will form part of the decision-making process for co-option at a Full Council meeting on 15th May 2023. Please be aware that your application will form part of the public agenda packs but with personal contact information redacted.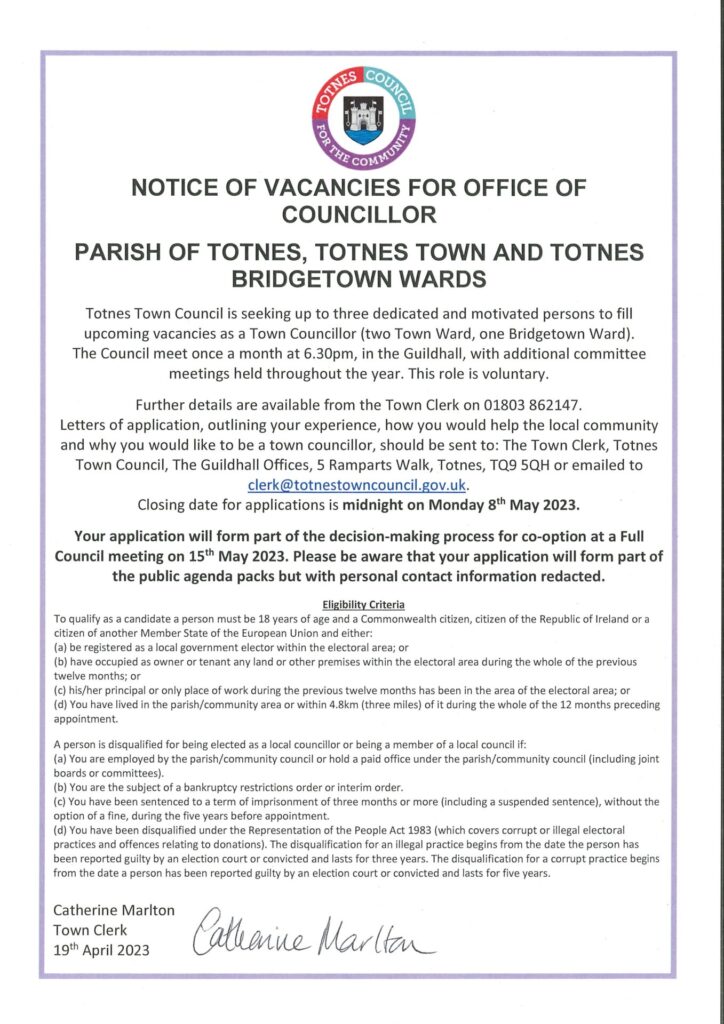 Elections for Totnes Town Councillors are held every four years, with the next elections taking place on 4th May 2023, however vacancies can arise during this term. When a vacancy comes up public notices will be produced. Firstly, the public are asked if they wish for an election to take place, with 10 signatures or more required from residents in the ward (the area of the town which the Councillor represents, so either Totnes Town or Bridgetown) for the election to go ahead. If there is no request for an election then a public notice is issued inviting those interested in becoming a Councillor to contact the Clerk, the applications are then reviewed by the Council and a new councillor is 'co-opted'.
Town Councils work best when the Council works as a team and the National Association of Local Councils encourages party politics to be put to one side even though you may represent a political group. Individuals are also expected to conduct their Councillor role according to the seven principles of public life know as the 'Nolan Principles' which are: selflessness; integrity; objectivity; accountability; openness, honesty; and leadership.
For more information have a read of 'The Good Councillor Guide' or contact the Clerk at clerk@totnestowncouncil.gov.uk or 01803 862147.
Councillor Stories